184mm (7¼), 19mm, 1.6/0.99t, 60T
DW3196-KR
184mm (7¼), 19mm, 1.6/0.99t, 60T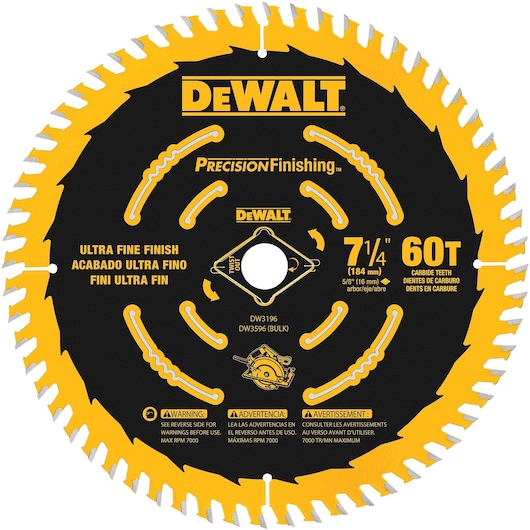 DW3196-KR
184mm (7¼), 19mm, 1.6/0.99t, 60T
Available in: Korea
Reduced push force required by the user
Cuts straighter with reduced binding.
View more features
Product Overview
Crafted from tungsten carbide for extreme durability, DEWALT Precision Framing Saw Blades feature a thin kerf and exclusive plate technology for fast, smooth cuts. Anti-stick coating minimizes friction and gum-up. Ribbed heat vents allow blades to run at cooler temperatures, decreasing both flexing and binding.
Additional Features
Teeth stay sharper longer with reduced breakage
Ripping and cross-cutting natural timbers
Cutting composite wood based sheet materials e.g. plywood,
mdf and chipboard etc.
Support
Warranty
Unfortunately, the warranty information cannot be retrieved for this specific product. Please review the information about our warranties.
Learn more
Service
We take extensive measures to ensure all our products are made to the very highest standards and meet all relevant industry regulations.