4" x 1/4" x 5/8" High Performance Metal Grinding Wheel
DW4419
4" x 1/4" x 5/8" High Performance Metal Grinding Wheel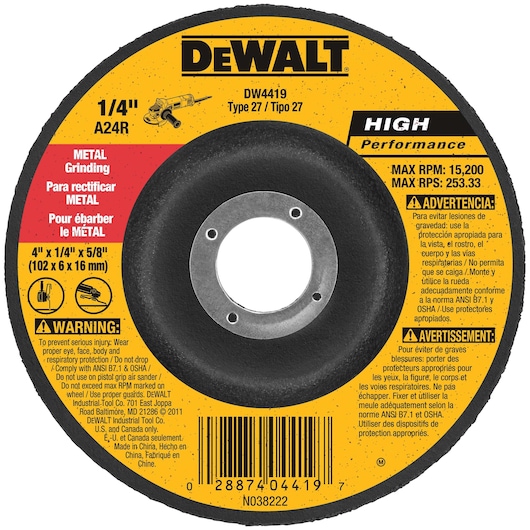 DW4419
4" x 1/4" x 5/8" High Performance Metal Grinding Wheel
Available in: Indonesia
High performance aluminum oxide grain for long life and high material removal
High grain concentration for aggressive grinding action and smoother running wheels
View more features
Product Overview
Crafted from high-performance aluminum oxide grain for durability and optimal material removal, DEWALT Type 27 HP Metal Grinding Wheels grind and shape a variety of metals and non-ferrous materials. High grain concentration for aggressive grinding action and smooth-running wheels.
Additional Features
Proprietary material mix ensures durable long life wheels
3 full sheets of fiberglass for durability and safety
Applications
Heavy-duty grinding of ferrous metal (steel, iron welds, edges, etc.)
Weld blending and edge grinding
Fast metal grinding wheels for free grinding in stainless steel and other hard alloys
| SKU | Product Name | Product Pack Quantity | Purchase |
| --- | --- | --- | --- |
| DW4418 | 4" x 1/4" x 5/8" High Performance Metal Grinding Wheel | | |
| DW4419 | 4" x 1/4" x 5/8" High Performance Metal Grinding Wheel | 25 | |
Specifications
Support
Warranty
Unfortunately, the warranty information cannot be retrieved for this specific product. Please review the information about our warranties.
Learn more
Service
We take extensive measures to ensure all our products are made to the very highest standards and meet all relevant industry regulations.