MAX FIT® Telescoping Multi-bit Ratcheting Screwdriver
DWHT66567
MAX FIT® Telescoping Multi-bit Ratcheting Screwdriver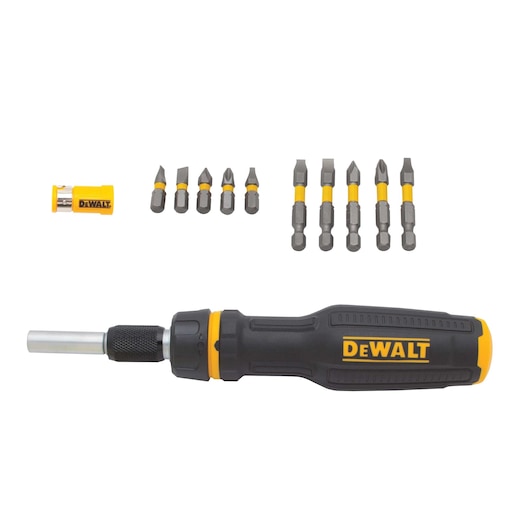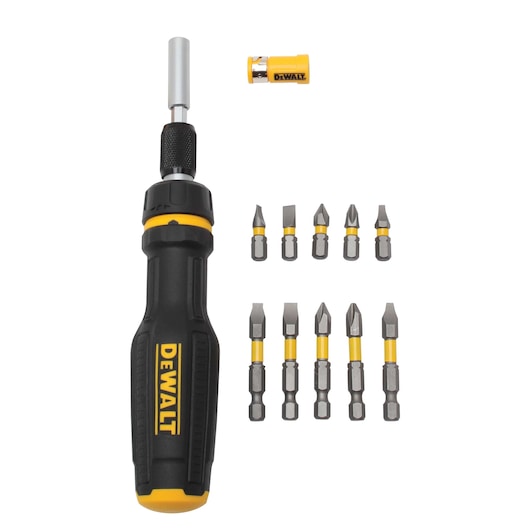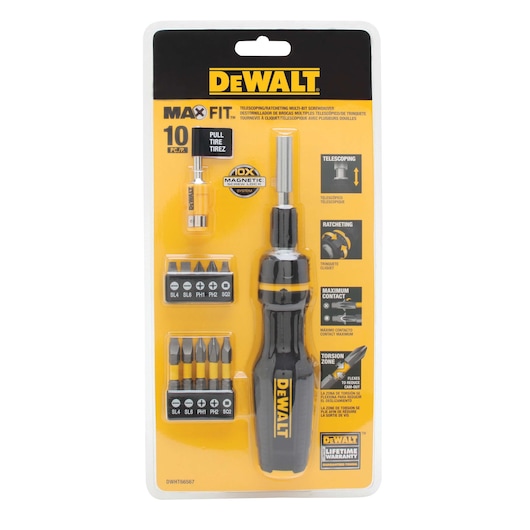 DWHT66567
MAX FIT® Telescoping Multi-bit Ratcheting Screwdriver
Available in: Singapore and Taiwan
MAX FIT® tip design for maximum fit in fasteners and elimination of stripped screws
Telescoping bar provides the right amount of length when needed and retracts for storage
View more features
Product Overview
The DEWALT MAX FIT® Telescoping Multi-bit Ratcheting Screwdriver is designed for maximum fit in fasteners and reduces the potential for stripped screws. The telescoping bar provides the right amount of length when needed and retracts for storage. This product also features a magnetic screw lock system, keeping fasteners secure during horizontal or vertical usage.
Additional Features
Magnetic Screw Lock System prevents fastener and screw wobble
Applications
Finish Carpentry
Electrical
General Contractor
Includes
(1) 2 PT Phillips(R) x 1"
(1) SL4 X 1"
(1) SL6 x 1"
(1) Square 2 PT x 1"
(1) 1 PT Phillips(R) x 2"
(1) 2 PT Phillips(R) x 2"
(1) SL4 X 2"
(1) SL6 x 2"
(1) Square 2 PT x 2"
(1) Magnetic Screw Lock collar
(1) 1 PT Phillips(R) x 1"
Support
Lifetime Limited Warranty
We're confident of the quality of our products and we'll repair, without charge, any defects due to faulty materials or workmanship within the specified warranty.
Learn More
Service
We take extensive measures to ensure all our products are made to the very highest standards and meet all relevant industry regulations.